SOCIAL RESPONSIBILITY
We believe that the empowerment of all people, at all levels, is the most critical component of a socially responsible company and have committed ourselves to the continuous upliftment and support of our communities.
Community Upliftment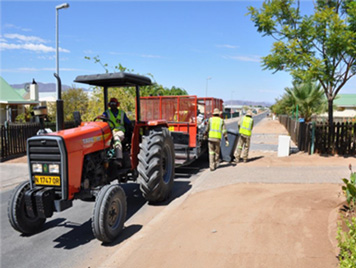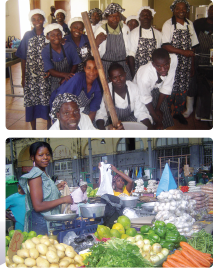 We support and sponsor both the Hoeksteen Combined School and the Rosh Pinah Academy. We feed 180 vulnerable children and orphans daily at Hoeksteen School. This includes providing cold drinks free of charge. Once a year CCM donates 900 apples bought from the Cancer Association to Hoeksteen Combined School to support cancer awareness.
We also support and sponsor the Tutungeni Centre for Hope, a non-profit organization, with all its endeavours.
Our shareholders financed and helped build the local SWAPO branch office in Tutungeni, Rosh Pinah to service all residents of Tutungeni and to create a formal structure for meetings and community development.
We have helped to establish previously disadvantaged SME's and these businesses continue to receive CCM's support. We assisted in rebuilding two families' homes that burned down in Tutungeni and have also donated 540 blankets to the vulnerable children, orphans and old age pensioners in Tutungeni over the past three years. We also support the Rosh Pinah Community Policing Forum.
Komesho Culinary Academy
Opened in July 2008, the Komesho Culinary Academy was created by CCM to cater for our culinary training needs and for possible future training for the catering and hospitality industry in the Karas Region.
Komesho provides hospitality training to CCM employees as well as previously disadvantaged individuals from the communities around our clients' sites. This training is in line with the Namibian Training Authority. To date, CCM has trained 111 previously disadvantaged young Namibians.
In 2009, CCM in conjunction with OBIB training centre started training 7 previously disadvantaged Namibians from the informal settlement of Tutungeni. These individuals were given 7 months of extensive culinary training and now are full time employees of CCM.
This academy also hosts an annual culinary competition that strives to uplift culinary skills within the hospitality and catering industry. 48 of CCM' s culinary staff have been exposed to culinary competitions through the Komesho Culinary Academy.
The Komesho Culinary Academy is the only one of its kind in the whole of the Karas Region and has received high praise from the Namibian government.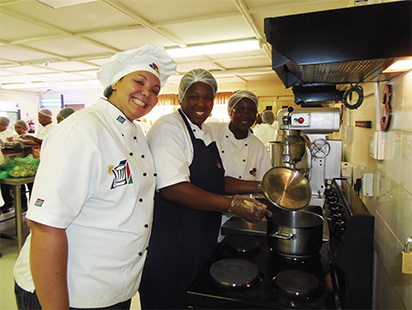 Workplace Wellness
We believe that for the economy to thrive, Namibia needs productive people. We believe, therefore, that every employer should take steps to ensure that their workforce is healthy.
In line with these beliefs, CCM is actively involved in promoting a workplace catering wellness programme. We encourage our employees, customers and clients to eat healthier and we provide free training to HIV/AIDS Peer Educators from our clients' operations.